Friday night I went with my good friend Ryan to see a theatre production of John Birmingham's "He Died with a Felafel in His Hand" at
Brisbane Arts Theatre
. It was very funny, though not for the easily offended.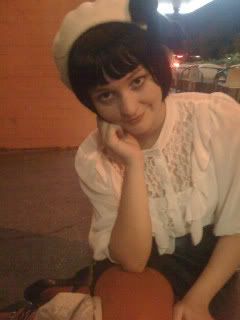 I wore a chain store shirt, stockings and beret (Forever New), a vintage skirt and my Vivienne Westwood/Melissa shoes.
Yesterday I went to the cinema and saw "The Boy in the Striped Pyjamas". It was a very sad film, I admittedly sobbed on Tom's shoulder for the last five minutes of it. But I guess it would not be an accurate portrayal of the Holocaust if it was not tragic.